Sewage pumping staion EXCLUSIVE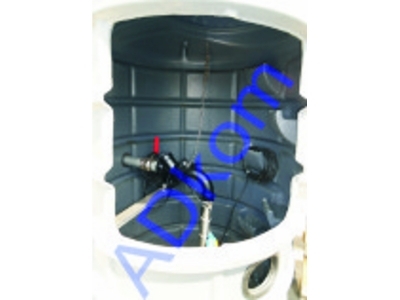 the net price amounts from 5680 PLN, the gross price amounts from 6986,40 PLN
A basic set
1. A container – an outside diameter 1000 mm, the height 2050 mm, made with rotational method from PE (polythene), tight 1 culverts of delivery pipe, 1 a cover of container made from PE, steps,
2. The pump about the free flight 2'', the engine power 1,1 kW,
3. A cast iron - check valve, a shut-off valve, wires and presssure pipes made from galvanized pipes
4. The pump is fastened by using the upper hook for self engage pumps,
5. Device control - a starting float integrated with the pump, thermal protecting of the pump, a differential current protection, alarm float powered
6. Fixing structure, screws and a chain made from the stainless steel.
Options
- possibility of making wires and presssure pipes from the stainless steel,
- possibility of using the pump with a shredder,
- possibility of sealing the cover,
- possibility of expansion of control,
- possibility of change the height of the container,
This offer does not constitute an offer within the meaning of the Civil Code. For details of the technical basis are chosen individually and may differ from the description on the website.